Richard Sitnik. Giving a Hand Up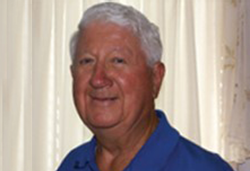 Richard Sitnik's remarkably successful life led him to do something remarkable through The Salvation Army to help others learn to succeed.
What's the definition of a "hardscrabble life"? When life is difficult and people are poor, trying to scratch out a living to survive. That word fits Richard Sitnik's early life, the ninth child of a family of ten, sleeping on the floor, and working summers at the muck farms.
A 91 year-old retired business man, Mr. Sitnik's detailed memory can recount the struggling days during the Depression as the second youngest of ten children growing up in Eastwood. The days of working on the muck fields or at Crucible Steel while his classmates were still in school are long gone, but while on his way to becoming a self-made businessman, he never forgot.
And now he is able to help others move from poverty to success as he did. He's made a legacy gift to The Salvation Army, Syracuse Area Services to continue programs and services to those in need, to provide a "hand up, not a hand out." It is the largest commitment ever made to support The Salvation Army's work in Onondaga County.
"I've studied other agencies and all offer worthy programs, but the wide range of services that The Salvation Army provides for kids, runaways, young mothers and seniors, I felt donating to the Army would be the wisest use of my funds," said Mr. Sitnik. "They help those in need and prepare them to be successful."
"I wanted to show others that over the course of my life, in spite of difficult circumstances, working hard since I was young and becoming successful in my business, that others could achieve success too," he added.
"Mr. Sitnik's legacy gift is a donation that will change many, many lives for years to come," said Major David Dean, Director of Operations – Onondaga County, Syracuse Area Services. "We are so very humbled by his generosity to 'pay it forward' to help us mend broken lives. With such a legacy gift we will be able to help clients grow and attain self-sufficiency," he said. "Sometimes, a hand up is all that's needed to turn a life around," he noted
It's ironic that a Depression era program established to create jobs led to his family's fall onto hard times. One of the federal government's WPA (Works Progress Administration) projects in Syracuse back then was creating jobs by the construction of a sewer line extension through the Eastwood area. Although heavily subsidized by the federal government, homeowners had to pay additional taxes on the new sewer system. The burden of paying for the new sewer lines fell on taxpayers and Mr. Sitnik's parents could not afford to pay those additional taxes, so they lost their house to foreclosure. They moved into a small house situated between two sets of railroad tracks near East Syracuse, one set of tracks carried freight traffic and the other side passenger rail. "It wasn't much of a house," he said, adding that he had to sleep with three of his brothers in one small bedroom. The house had neither electricity nor hot water. The house was eventually condemned and the family moved back to Eastwood.
Sitnik's work career started at the tender age of 5 when he and his brothers and sisters worked on a local muck farm, topping onions and earning five cents for a bushel. His goal was to accumulate at least a dollar to give to his mother who was essentially raising the family by herself.
At the age of 12, he started working summers at the muck farm, earning one dollar a day, which increased over the next three years to $3.00 a day. In the winters, he reset pins at the Eastwood Bowling Alley.
The day after he turned 16, he was forced to leave school and took a job in a Brass Foundry to help contribute to the families' earnings. The following year, he and his brother went to work at Crucible Steel in Solvay, where he worked for 30 years except for a stint with the Army when he volunteered in 1951 that included a tour of duty during the Koran War.
Later, he helped his cousin for three weeks with his business of buying and selling wholesale surplus, and decided to give it a shot. With cash being tight, and success only a dream, he started this venture by purchasing a well beat up thirteen year old 1950 Dodge pick-up truck for $175.00 and still has the receipt. It would have been quite a sight for one to have seen this old truck going down some of the steep hills on Route 20 just south of Syracuse while streaming a blue streak of smoke from its exhaust pipe as he was calling on customers."It was from this that I learned that I had a talent for selling," he said.
He then opened his own business, Hiawatha Fasteners, selling wholesale nuts and bolts and related hardware. What made his business unique and innovative is that he sold the majority of hardware by the pound allowing his customers to browse through open bins of fasteners, choosing only the quantity they needed to get the job done, which kept costs down and created a niche market that virtually no one else was offering. He ran the successful business until he retired in 1995, "on April 1, shortly before I turned 65!" he said.
As he enjoys his time in Florida, he paused to describe another reason for his legacy gift to The Salvation Army, "I would be able to help many people who were in the same spot that I came from… I can help people in need become successful in life."